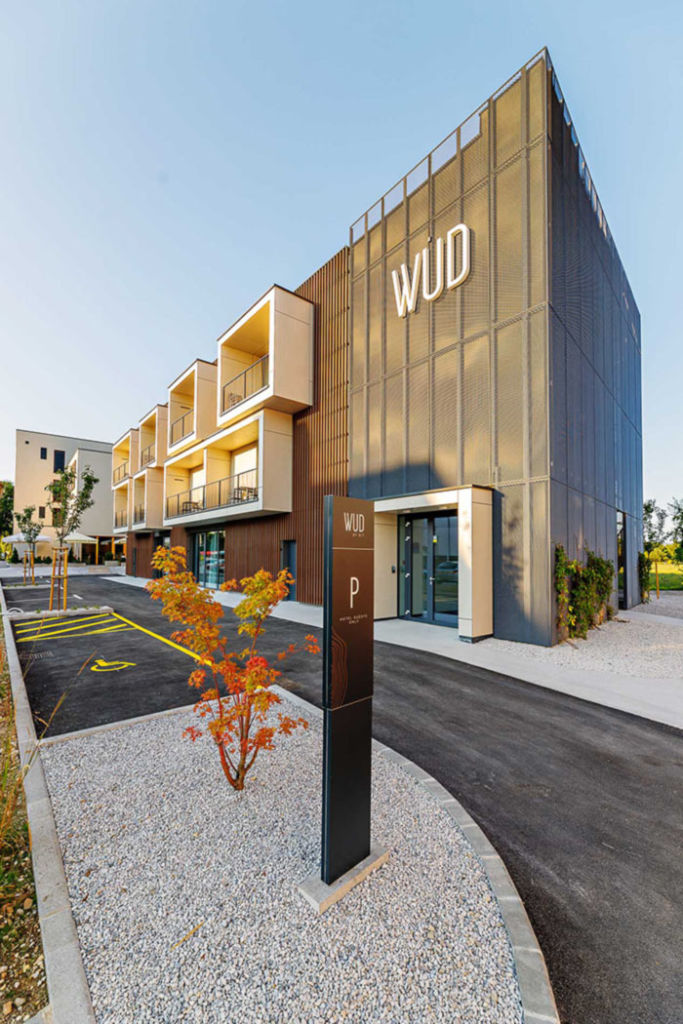 SUSTAINABLE CLT
technology.
The WUD***s Hotel is the first hotel in Ljubljana that has been built on the principles of modern sustainability with a prefabricated timber construction. It is based on tried-and-tested CLT technology. Natural materials are anti-seismic and fireproof. Single elements are bonded with water-based adhesives, free of harmful chemicals. Wood is also the prominent feature of the hotel interior – of the ceilings for instance, which boast a visible wooden structure, thus giving the room a sense of homeliness and warmth.
A RESPONSIBLE
interior design choice.
WUD***s Hotel has a sustainable interior design as well. It is illuminated by low-energy LED lights. The selected furniture has received design accolades – for instance, Nico Less chairs made from recycled materials, which was bestowed with the prestigious Red Dot Award. Eco-friendly recycled materials also include supplies such as stationery, toilet paper, wipes and some other features.
Drawing the best from the local environment
In line with its commitment to sustainable progress, the WUD Hotel*** picks the best from the local environment. Among other equipment, the dance pole, set in a unique apartment, is also of Slovenian origin and is world-renowned.
FAMILY HOTEL:
confident in the future.
The WUD***s Hotel is our family answer to the question: What R U Doing about the future? By building the first wooden hotel in Ljubljana, we keep on creating the conditions for a kind of tourism that is better able to connect people with the excellence of the territory in a thoughtful and responsible way.

The choice of Slovenia
I was born in the United States of America. Due to my father's job, I lived in different countries all over the world – including Greece, Switzerland, Italy – and spent part of my childhood in hotels. That is why I know the hospitality industry very well and want it to be people-friendly and environmentally responsible.
At the age of 25, I took over the running of the Bit Center Hotel in Ljubljana. After 15 years of successful efforts in combining location, activities and trends that make the stay accessible to everyone, I was able to fulfil my dream: to build a hotel on my own principles.
Slovenia is a land of forests and of a nature-friendly future in tourism. My family-run hotel is wooden and focussed on green living, even now.
Respect for passion
I love hotels. That's my passion. I feed it with such projects as WUD***s.
My wife loves dancing. That's her passion. She feeds it with innovation, which has convinced many the world over. At the WUD***s Hotel, her wide-ranging passion is represented by a special dance pole.
Our guests are looking for a green life in urban centres. The WUD***s Hotel gives them the opportunity to live out their own adventures in Slovenia, in Ljubljana, at the crossroads between green and urban.
What connects us is a new quality of living, which combines nature, relaxation and activity, art and design. At the WUD***s Hotel, we arrange these combinations with as little carbon footprint as possible for future generations.
Vasja Vavpetic,
owner and manager